THE LATEST THINKING
The opinions of THE LATEST's guest contributors are their own.
The Ultimate American Gothic Horror Story (Part V)
The thunderous conclusion: This is not about bakeries refusing to sell cake. This is the ultimate American Gothic horror story starring the dominionists and a supporting cast of evangelical/fundamentalist sympathizers (many of whom are in our government), and featuring a brand new holy trinity: ultra-far-right-christianity, patriotism and capitalism.
After infilitrating a dominionist group for months, Chris Hedges wrote American Fascists: The Christian Right. I read it. Hence, my preoccupation with the penis quotation and keeping church and state separated (part one).
The dominionist worldview is draped in holy vestments and flags, since it's based on "the conception of America as a nation founded by and for Christians."
Yikes! The First Amendment's "Establishment Clause" expresses a fundamental American principle, no?
"Congress shall make no law respecting an establishment of religion, or prohibiting the free exercise thereof;"
And this includes non-religion.
In addition, neither the Constitution nor the Bill of Rights mentions God. The Declaration of Independence references "Nature's God" (a distant entity, according to then-popular deism, provable only by reason and nature, that hasn't bestowed revelation). Many founding fathers were deists or pantheists.
Clearly, the idea that America was founded by and for "Christians" is wishful thinking (at best). But wait, there's more.
As Hedges states, dominionism views all functions of government other than security, defense and protecting property rights as "impediments to the creation of a Christian state, forces aligned with the anti-Christ that must be destroyed." What does this mean exactly? According to Rachel Tabachnick, dominionists are "determined to forcibly Christianize every aspect of American culture": the arts, business, education, family, government, media and religion.
This is not about bakeries refusing to sell cake. Think about it. Business: health insurance providing contraception? Certainly not. Education: intellectual inquiry and evolution out; creationism in. Art: forget Michelangelo's David. Media: sayonara RT; greetings Alex Jones. And where would the poor go to learn how to fish? They would be fish out of luck. They could, however, get a fish handout from the church.
But wait, there's more.
"Heterosexual Christian men are called by God to take dominion over secular society." Good-bye workplace. Hello kitchen.
Ordinarily, there wouldn't be cause for undue concern; cults can be crazy. But dominionists have spent decades creating a significant foothold in all levels of government (part three); they have a base; they recruit and train clergy to run for office; they're organized; they're focused; they mean it.
But wait, there's more.
On one dominionist website a contributor agrees that the Constitution is not fundamentally Christian. Hallelujah?
Nope. According to Ted Weiland, the first two commandments were violated by the Establishment Clause, which he considers an endorsement of polytheism. He argues further that there is no such thing as "unalienable rights, only God-required responsibilities." Violations require the death penalty. When they say "destroy" it's not a metaphor.
Some offenses that deserve the chair, or a more medieval device: adultery, blasphemy, homosexuality, astrology and the 'unchastity' of women before marriage. Dominionists are also "deeply involved in the building of America's first modern mercenary army" through Erik Prince, right-wing Christian founder of Blackwater and brother of Betsy DeVos. Do we need more?
Dominionists don't just want to fuse church and state. They advocate nothing less than a Christian caliphate.
THE LATEST THINKING
Webisode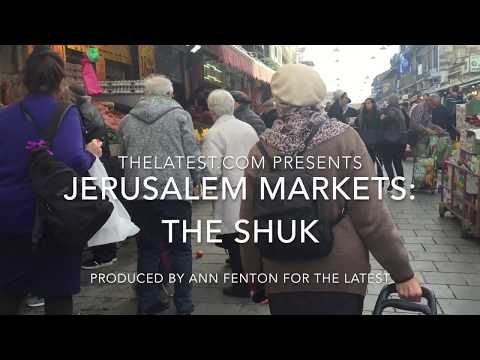 Jerusalem Markets: The Shuk