THE LATEST THINKING
The opinions of THE LATEST's guest contributors are their own.
The Effects of a Pandemic in the System
If you want to see what a pandemic like COVID-19 looks like in a vulnerable population when very little is being done to stop it's spread, you need to look no further than the prison system. Sanitizer is contraband, social distancing is not possible, and testing is nonexistent. Coronavirus has almost free rein in prisons and it shows in the numbers.
Jail populations are the most at-risk group in the nation when it comes to pandemics. That is because it is where people land when they get arrested. As a result, there are a lot of men and women going in and out the doors every day. If a person cannot afford bail, they stay in the jail until their case is resolved. As of the middle of March, when COVID-19 was just gearing up, there were over 500,000 people in jails in our country.
In response, courts across the country have gone to video conferencing all pretrial hearings and releasing prisoners on personal recognizance bonds for misdemeanors and low level felonies. Many jails have also started releasing prisoners close to the ends of their sentences and letting them finish their sentences on house arrest. These are moves that criminal justice reform advocates have been trying to see happen for many years. Sometimes it seems like it takes a crisis for the system to do the right thing.
Inside the jails, at least 650 detainees and staff have tested positive at Riker's Island in New York and at least five have died. The first one was there on a parole violation. There are over 300 cases at the Cook County jail in Illinois and staff members are being forced to work without personal protective gear or hand sanitizer.
The pain is being felt by the police, too. In the first week of April, a Broward County, Florida Sheriff Deputy died of COVID-19 amid reports that there were not enough masks for the entire department, and in Riverside, California, two deputies died of the virus on the same day.
Meanwhile, in prisons, the situation is grim indeed. In March, every state and the federal system canceled all visitation, although some do allow non-contact attorney visits. In Washington, D.C., just two weeks ago, 20 inmates had tested positive and the number was growing.
Officials at the Oakdale, Louisiana federal prison disregarded CDC guidelines and refused to separate sick inmates from the healthy. Inmates were trying to fashion masks out of their own clothing and staff did not have enough masks for themselves. At the end of the first week of April, over 250 inmates in the federal system tested positive and at least eight were dead.
In Alabama, officials have admitted they will not be able to handle what is happening in their system when it peaks and warns of mass casualties and a National Guard takeover of the system.
The governor already called out the National Guard after an outbreak in Elkton, Ohio, where three have died, seven have tested positive, and dozens are showing symptoms.
In New Jersey, prisoners with symptoms are being treated with cough drops and Mucinex, while Oregon inmates have sued the state over their lack of preparedness in the prison system.
All this in just the first few weeks of the pandemic. Look for it to get worse before it peaks in prisons.
THE LATEST THINKING
Webisode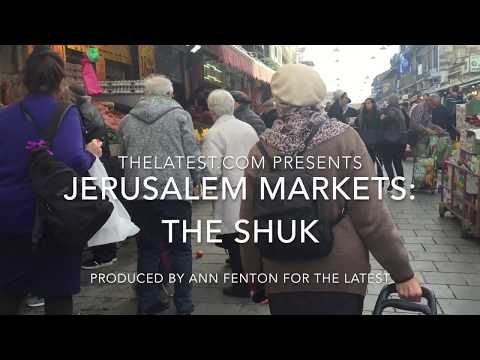 Jerusalem Markets: The Shuk