THE LATEST THINKING
The opinions of THE LATEST's guest contributors are their own.
'The Autopsy of Jane Doe' Is Dead on the Inside
Can you brave this grotesque film?
Netflix's mystery horror The Autopsy of Jane Doe is an intense, stomach-churning tale about a father and son coroner team who are tasked with discovering the cause of death of a mysterious female corpse. As they begin, they uncover disgusting but altogether natural things, such as a missing tooth. As they progress, however, things veer into the supernatural and they find themselves facing a threat more ancient and deadly then they could have known.
It's a typical combination of genres resulting in a medical mystery-horror, and almost the entire film takes place inside one building, its walls painted an appropriate blood red. The story and subject matter will be a hard pill to swallow for viewers even mildly squeamish as Tommy and his son Austin dissect the body with gruesomely realistic detail. If viewers happen to be medical students, though, they won't blink an eye.
The corpse is made with stunning detail by the props department. The mystery rises as they discover items that could have only gotten inside or onto the corpse by supernatural means. The film genuinely makes this interesting since each object is stranger than the last; for almost its entire runtime this mystery carries the story forward — and the ending starts.
The mystery's explanation doesn't falter so much as overstay its welcome. The horrific unknown is replaced with muddy motivations, and the question of why they, specifically, are being hunted is unclear even after the explanation. This doesn't exactly put the film's scriptwriters in a good light. Most disappointing of all, however, is the exciting potential that sinks into the cliché when the climax is stretched into an additional fifteen minutes.
The last fifteen minutes lumps the story into the dime-a-dozen-horror category — the disappointment at lost potential as stagnant as another dead body.
Trapped in an elevator and fighting for their lives against the furious force they unwittingly awoke, the son makes a dreadful mistake, ripe with immediate personal and emotional consequence. If the narrative had ended there, it would have had the opportunity to distinguish itself as a horror movie with genuine novelty. The unknown would have remained unknown, but it would've been all the more terrifying because of the emotional price they had paid in an attempt to find out more. Distraught, the character's retreat and the movie's end could have had the chance to have audiences discussing it for a long time after.
As it is, though, The Autopsy of Jane Doe takes the safe route, resulting in a truly intriguing mystery with a disappointing end, the sting of lost potential as strong as disinfectant when the movie draws to a close, entombed in self-imposed mundanity.
THE LATEST THINKING
Webisode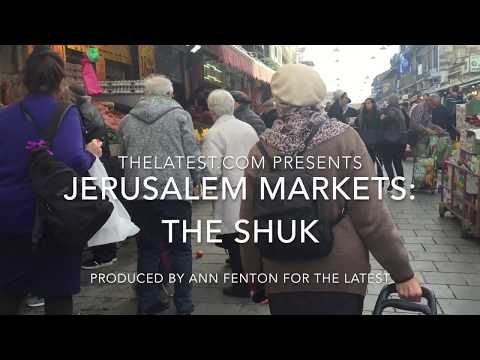 Jerusalem Markets: The Shuk