THE LATEST THINKING
The opinions of THE LATEST's guest contributors are their own.
Ten Things to Watch on Netflix in May
There are choices now with what you watch. Exercise your choice.
There is plenty of noise out in the world about what to watch, and it's too easy to simply fall back into the same old shows. Don't do that.
Ten great shows currently streaming on Netflix:
The Letdown (Australia) - Comedy about new motherhood. As a single, childless man, I should be voted "the most unlikely person to find this show amusing". Quite the contrary. The Letdown proves that good comedy transcends relatability.
Money Heist (Spain) – Wanna guess what this show is about? As Netflix's most watched non-English speaking show you'll discover that the bad guys are not so bad and after a couple of episodes, you'll be hooked. It's modern and fun; two seasons here, season three is coming.
Remember, always subtitles!
No Second Chance (France) - Reliable Harlen Coban adaptation of his 2003 book Tell No One.
American Crime (USA) – Anthology series that aired on ABC. Showrunner John Ridley crushes it and American Crime is simply way above standard network dreck. Pick any of the three seasons and watch.
Rectify (USA) - Peabody award winning show that is flawless in every aspect. If you like your shows with depth and nuanced writing and performances, you would be hard pressed to find better.
Occupied (Norway) - Based on an idea by author Jo Nesbo, this is a taught and timely political thriller that takes place in the not to distant future. More reality than dystopian and that's pretty refreshing.
The Chalet (France) – A solid drama about murder and revenge that takes place in a remote French town. You'll figure out pretty quickly what's going on but the journey to get there is where the fun is.
The Method (Russia) - Russian shows are almost always interesting. Some are even worth watching, like this one. Lone wolf profiler takes newbie under his wing, hilarity does not ensue.
Seven Seconds (USA) – And speaking of Russia, this show is based on the Russian film, The Major. Seven Seconds was created by Venna Sud, showrunner of The Killing. This is a great show that never would have made it on network television. Like American Crime, this show has the incomparable Regina King, who is seriously proving to be one of the best actresses working today.
Halt and Catch Fire (USA) - A show about the rise of the computer/tech industry from the late 70's onward. If you remember the era, it's fun to watch and even if you don't remember, it's still fun. Serious bonus points for having a lead actor named Scoot. Like Rectify, Halt and Catch Fire is flawless.
BONUS
Bobby Kennedy for President (USA) – This year marks the 50th anniversary of Bobby Kennedy's assassination and this four-part documentary is a terrific look as to why Bobby Kennedy is such an important American voice. There is no way to measure what we lost on June 6, 1968 when Bobby Kennedy died but if you watch this you may just find yourself closing your eyes and wondering "what if?".
THE LATEST THINKING
Webisode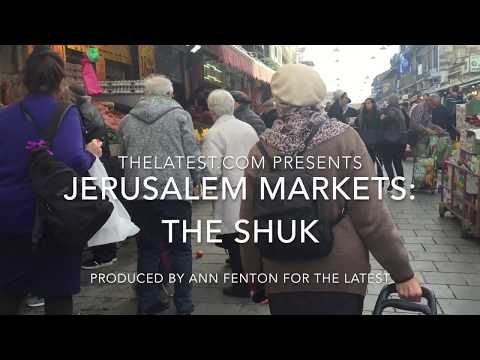 Jerusalem Markets: The Shuk