THE LATEST THINKING
The opinions of THE LATEST's guest contributors are their own.
Targets of the Unbalanced
Media has always been a target for the unsound of mind or the fanatic, now more than ever.
Two things happened at the end of June that served as the chisel to break loose a couple of memories involving my years in radio. First, the attack on a newsroom in Annapolis, Maryland, that cost the lives of four journalists and a sales rep. Second, the death of Top 40 radio's funniest disc jockey, ever: Dan Ingram.
The shooting at the Capital Gazette reminds us that a segment of our population will always be deeply disturbed, and vitriol for the sake of political gain only eggs them on. I can personally attest to the fact troubled people fix media entities as targets. So could've Dan Ingram, who, in the latter part of his astounding run on WABC, New York, once opened a fan letter only to be cut by razor blades.
I bore witness to three threats over 20 years working as a personality on radio in Los Angeles, none of which have ever been written about, until now. It's best not to air these things, lest a similar "nut" play copycat.
In late 1997, a guy got past the electronic gate as someone left, got in a door the janitor had opened, and wandered into the control room, alarming the jock on the air. Police were called, and he was taken to jail. Two nights later, he returned, climbed over a wrought-iron fence, used a heavy metal pipe to break through the double glass front doors, then broke the knob-handles off every office door, looking for the studio. When he found it, the surprised the jock on the air cranked the studio monitors as high as they could go, scaring him off. LAPD arrived and took him away again. Tweaked on crystal meth, he told them he'd won the lottery and bought the station. No one was hurt, but we lost it a little confidence in our safety.
Three years later, I pulled into the same parking lot at Venice and Fairfax, 3 A.M. on Memorial Day, to do the morning shift. I got out of my car, heard a voice calling, turned and saw someone wrapped in a cloak come out of the overnight mist. I quickly got inside the building and called LAPD. Again, officers showed up and hustled him into the cruiser. They told me the guy was naked, wrapped in just a blanket, and hopped the spiked fence. When they asked his name, he answered, "Jesus Christ."
In 2006, at different studios on Wilshire, a caller left a message threatening my life. Management played the message for me. He'd called me by name and said he was going to get, "...That white bastard!" I smiled and felt a lot safer realizing he had no idea what I looked like.
All of that was before we had a Commander in Chief use tweets and rally speeches as a cudgel against a free press. What was always frightening, what was always possible, is now a direct threat. The tone MUST be taken down.
THE LATEST THINKING
Webisode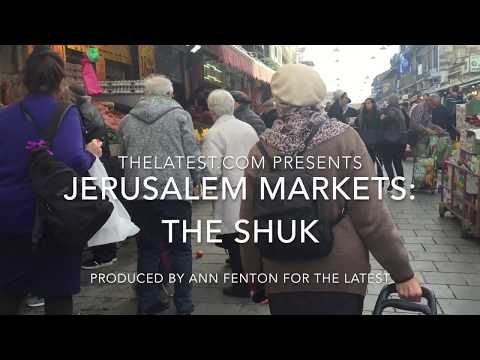 Jerusalem Markets: The Shuk