THE LATEST THINKING
The opinions of THE LATEST's guest contributors are their own.
Sexual Identity Politics: A No-Win Situation for the Average American
It's a brave new world.
It's a purported Chinese curse that says, "May you live in interesting times." In 2019 America – almost 2020! – it would be appropriate to substitute the word "confusing" for the word "interesting" in the well-known but likely apocryphal saying.

That's because of this: "All-girl Boy Scout troop starts in Ohio." It's not a headline to a story in the satirical newspaper The Onion, but rather a banner to an honest-to-goodness story about the Boy Scouts now being so woke and inclusive as to admit girls.

The neutering of the suddenly inaccurately-named Boy Scouts of America began in 2017 when the organization announced girls would be allowed to join. The following year, the association changed its name to Scouts BSA to reflect the inclusion of girls, apparently based on the belief nobody would realize what the letters "BSA" stand for.

For those keeping score at home, Scouts BSA (Boy Scouts of America, remember?) now has several all-girl troops. How very oxymoronic.
Earlier this year, CNN published a helpful article with the cumbersome headline, "Why it matters what pronouns you use to refer to people and what to do if you slip up." The piece really is helpful to the extent that it makes the case for not going out of one's way to use disagreeable pronouns with transgender, non-binary and gender fluid people – especially in intrapersonal relationships – because to do so would be impolite.
When discussing the pronoun issue in general, however, it's likely most people will note the absurdity of made-up pronouns like "ze" and "hir" – among others – which are unwieldy, impractical and seem designed to stir up trouble.
A society in which girls join the Boy Scouts and created-out-of-thin-air gender neutral pronouns are foisted on the public as a moral imperative is plausibly the result of the notion perpetuated by certain extremists for some time now that the categories "male" and "female" in the biological sense are merely social constructs, as opposed to objective realities that can be observed independently regardless of moral values or socialization.
Lest you think that's an exaggeration, Dr. Deanna Adkins in 2016 declared to a federal district court in North Carolina that "From a medical perspective, the appropriate determinant of sex is gender identity." She further argued that gender identity is not only the preferred basis for determining sex, but "the only medically supported determinant of sex. Every other method is bad science, she said, claiming, "It is counter to medical science to use chromosomes, hormones, internal reproductive organs, external genitalia, or secondary sex characteristics to override gender identity for purposes of classifying as male or female."
Such medical mumbo jumbo explains how some folks can hold the utterly incoherent position that biological genders are completely subjective and impossible to objectively define, while objectively recognizing transitions between them.
Merely pointing out these logical inconsistencies and internal contradictions often gets you labeled a bigot by the militant sexual identity politics crowd. Confusing times indeed.
THE LATEST THINKING
Webisode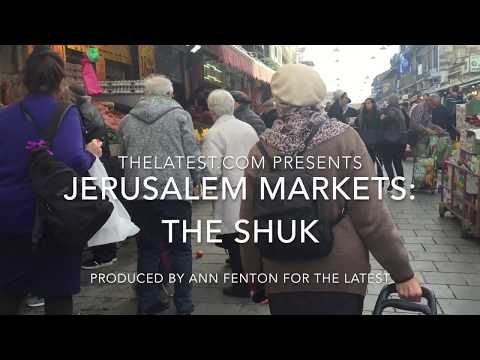 Jerusalem Markets: The Shuk