THE LATEST THINKING
The opinions of THE LATEST's guest contributors are their own.
Rabid Left + Milquetoast Right = Potential Disaster for America
Calculating Democrats and their progressive allies are acting on their radical ideas. Republicans and conservatives? They fiddle while Rome burns.
"The best lack all conviction, while the worst Are full of passionate intensity," observed William Butler Yeats in his early 20th century poem, "The Second Coming." It's a spot-on description of the present-day political landscape in America, where hysterical Democrats have seized momentum from well-intentioned Republicans too afraid of their own shadows in a presidential election year.
The nation is in the midst of a low-grade cultural civil war characterized by woke insanity: wanton toppling and defacement of statues and edifices, vicious attacks on innocent Americans by members of Antifa and Black Lives Matter and the destruction of cities across the U.S.

Leftist activists -- whether consciously or not -- have taken to the streets because they know on some level that's where the action that prompts change takes place. Though they are but a fractional minority, they realize as other revolutionaries did before them -- think the French and Bolshevik Revolutions -- that the key to success is seizing power no matter what. Today's fractional minority is militant and relentless in its pursuit of razing America and rebuilding a progressive utopia in its place.

They are aided and abetted by, of course, the mainstream media and the Democratic Party, which shows support and sympathy for the violence, looting and anarchy sweeping the nation in the form of party leaders refusing to outright condemn such criminal behavior, instead fanning the flames lit by the woke mob.

Meanwhile, the silent majority is either biding its time in pushing back, or the people as a whole have no intention of counter-punching because they are too afraid to actively resist, owing to a loss of confidence in a government that seems incapable of protecting them. People are tuning out President Trump's talk of "law and order" because that's all it is so far. Likewise, feckless Republicans got rolled by Democrats on a recent police reform bill, despite being the majority in the Senate.

Time is not on the side of cowardly and hesitant Republicans who seem not to realize that immediate and forceful action is needed by them and their conservative counterparts on the streets, especially in a presidential election year that has so far seen the right offer no functional opposition to zealous leftists.
Think the current unrest and insanity are temporary? Think again. If presumptive Democratic nominee Joe Biden defeats Trump at the ballot box this November -- and recent state-by-state polling suggests just that -- the left will be further emboldened in terms of imposing its progressive lunacy on America. Should voters put Biden in the White House in January 2021, look for Democratic and leftist mudslinging, demagogy, indulgence of racial violence and national self-hatred to get much worse than it already is.

Should that ugly scenario play out, the real Second Coming might be the only thing to save America from being turned into a progressive hell on earth.
THE LATEST THINKING
Webisode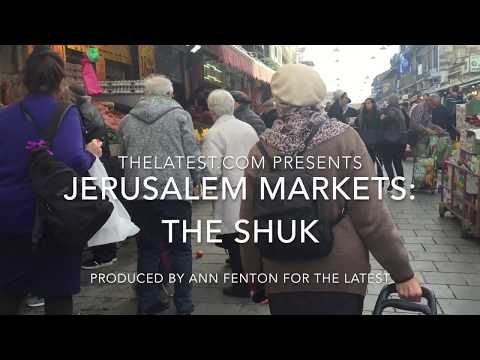 Jerusalem Markets: The Shuk