THE LATEST THINKING
The opinions of THE LATEST's guest contributors are their own.
Kylie Jenner Introduces Baby Stormi To The World
Kylie Jenner shared a picture of her daughter and revealed her name, which may ring a bell.
I'm sure you've heard the announcement that Kylie Jenner gave birth to a healthy baby girl. She was indeed pregnant the entire time we had speculated, and her official announcement was made on February 4th, the day of the Super Bowl. Her daughter was born days earlier on February 1st. We did not learn her name until today, but in my opinion, she could have taken maybe one or two more days to think it through.
You might remember that an old article from 2006 resurfaced about a porn star named Stormy Daniels. She allegedly had had an affair with President Trump while he was married to Melania Trump and recently after Melania had given birth to their son, Barron Trump. What does this have to do with anything? I will tell you, Kylie Jenner and Travis Scott have decided to name their baby, Stormi.
I may be grasping at straws here, but it just seems a little weird that the name Stormy Daniels was being heard everywhere for a few weeks and now there's a new Stormi in town. My theory is that Travis Scott and Kylie Jenner heard the name in passing since it's hard to ignore news that huge, but somehow they managed to ignore what the story was about. I imagine the conversation went something like this:
TRAVIS: I'm not going to let you name our baby after any of your lip kits.
KYLIE: So Posie is out? Then how about something bohemian? A nature name like Summer, Autumn or Wild Flower?
TRAVIS: Maybe a weather occurrence, like Windy or Stormi-
KYLIE: Stormi ... yeah, I feel like I've heard that before ... on the news when the weather comes on.
TRAVIS: Stormi. Yeah, it really rolls off the tongue and it doesn't sound like a lip gloss color.
KYLIE: *mumbles* It does sound like a great eyeshadow palette.
TRAVIS: What was that?
KYLIE: Nothing. Should we Google the name just in case something incriminating comes up?
TRAVIS: NOPE.

Maybe they didn't realize who they had named their baby after, or maybe they wanted to name their baby after a porn star to give other babies named Stormy a chance to be associated with someone other than an adult film star. If that is the case, then I wholly support them and all other boys and girls named Stormi/Stormy or any other variation. Congratulations Kylie and Travis, there's no doubt in my mind that your little Stormi will be as business-savvy as Kylie and as talented as Travis, so no matter what her name is. One thing is for sure: she's got a great future ahead of her.
THE LATEST THINKING
Webisode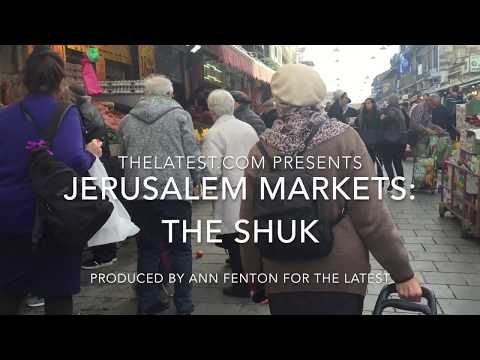 Jerusalem Markets: The Shuk