THE LATEST THINKING
The opinions of THE LATEST's guest contributors are their own.
Keeping the Experiences of World War Veterans Alive After Death
Now that all combat veterans of World War I are gone, it is important that we keep their voices alive and to do the same before World War II veterans are gone.
It's captivating as a person living in the modern world to imagine the lives of those who were alive during some of the world's largest conflicts. Each conflict was marked by particularly ambitious nations eager to start and/or expand an existing empire. The conquering of other nations brought valuable resources such as oil, iron, and even geographically strategic port access to the seas. There have been numerous plots for war in the past. The use of military might either as aggressors or to defend sovereignty is followed by death, destruction, and the rest is told in historical accounts.
Wars broke out for a variety of bad reasons, but those who were caught in the middle were the individuals asked to fight these wars. Their stories are often lost in time; overshadowed by details of major battles, total lives lost, or the overall results of any given war. When discussing the first World War, it took place just over a century ago, and as the decades since that war have passed, so did the lives of the survivors. Their experiences lost with the sounds of their voices. The details they could piece together for our imaginations are slowly fading away, and we pray they aren't lost in vain because each individual's experience is a reminder of the gloom, the horror, and the insistence to avoid war at all costs.
The last living soldier to see combat in the trenches of World War I, according to records, was a British soldier named Harry Patch. Born June 17th, 1898, he served from 1916-1918, and he never spoke of the war until he turned 100. Patch served in the Battle of Passchendaele. In one of his last interviews before his death, he told of sleeping in muddy trenches that were filled with "rats as big as cats" and mortar shells exploding all around him. He said from the day he arrived in France in June of 1917 that he was unable to bathe until he left in December. Lice would fill his uniform. Men drank rum for warmth. Those who were shell-shocked from the ills of combat were shot as their mental incapacitation rendered them useless on the battlefield. Sticking your head out of the trenches often meant taking a bullet from a sniper.
Patch died on July 25th, 2009 at the age of 111 years old, and he said the war was never worth the loss of his friends and millions more. Now, speaking about World War II, statistics show that there are roughly 296 veterans dying per day among U.S. veterans alone. Estimates conclude that by 2040 all survivors of WWII will be gone. How will we keep their experiences alive? It is direly important for us to record the experiences of these survivors in the nearest of years, and while keeping their glory alive, maintain the reminders that war is something to be avoided as much as humanly possible.
THE LATEST THINKING
Webisode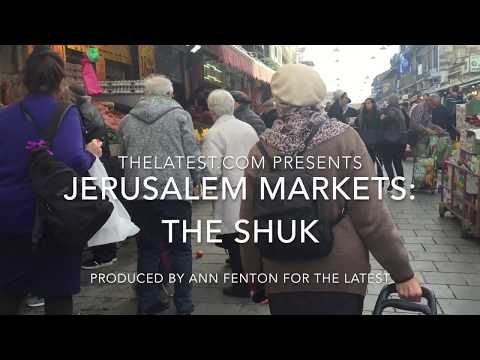 Jerusalem Markets: The Shuk