THE LATEST THINKING
The opinions of THE LATEST's guest contributors are their own.
'I am Jonas': an Excellent Mystery
The cinematic mastery on display in 'I am Jonas' is impossible to tear yourself away from.
I am Jonas is a French mystery directed by Christophe Charrier that appeared on Netflix this week. While it may appear unassuming at first, this movie's immense staying power can get under viewers' skin even if they don't realize it. Over time, the film marinates to perfectly display its subtle greatness, excellent directing and acting, and magnetic central mystery.
The film's multiple strengths support its engaging mystery, which is a subtle thrill-fueled guessing game surrounding the second major character, and the titular Jonas' infatuation: a boy named Nathan. The film follows two plot lines: the first as high-school Jonas meets Nathan and what happens thereafter, and the other taking place seventeen years later as an older, disheveled Jonas tries to survive after being kicked out of his apartment while pursuing a quest unknown to the audience. Here, Nathan's absence is immediate, and the central mystery is finding out what happened to him.
From the moment Jonas and the audience meet Nathan in a high school flashback, it's clear Nathan is a disturbed individual: he's lying, controlling, invasive, manipulative and malicious. One of the film's strengths is its ability to immediately establish character personality through dialogue and action. Nathan excels at this due to the film's subtle, crisp writing, and an outstanding performance by Tommy Lee Baïk. What happens to Nathan? Does he kill someone, or get arrested? Cleverly-hidden questions hook viewers and keep them glued to their seats as the story progresses.
Engagement is heightened by the excellent use of color. In the timeline following grown-up Jonas, he has a GameBoy stashed in a yellow duffle bag. While the bag belongs to him, the GameBoy once belonged to Nathan – and so an invisible connection is formed. While the bag does not belong to Nathan, audiences are drawn to think of him because of what's inside it. The film's color pallet is overwhelmingly yellow – with lamps, chairs, shirts, walls, you name it. The film is positively drenched in yellow, and so audiences naturally recall the contents of the duffle. Yellow is tied to Nathan. The color relentlessly hounds Jonas as he proceeds on his mysterious quest, representing the massive impact that Nathan had, and still continues to have, on his life.
Christophe Charrier is a master of directing. No scene, sound effect, or camera angle is wasted. Everything is woven in an intricate web, creating an experience so enthralling that viewers will hardly notice the time going by. Not a single moment lags; the pacing between the two timelines intertwines in cinematic harmony and crescendos to a truly unexpected climax.
I am Jonas is new to Netflix – so don't miss it.
THE LATEST THINKING
Webisode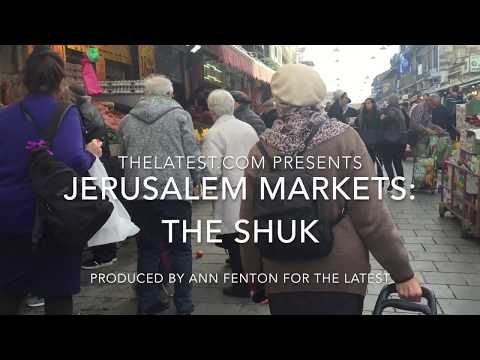 Jerusalem Markets: The Shuk