THE LATEST THINKING
The opinions of THE LATEST's guest contributors are their own.
The U.S. needs to reduce the number of threats caused by gun violence. We can do this by starting with tightening gun control.
In 2021 alone, there have been multiple shootings, leaving 8 dead in Indianapolis, 8 dead in Atlanta, 10 dead in Colorado, 4 dead in California, and 6 dead in South Carolina. Moreover, gun control has evolved from a public health crisis to a national security threat, as was made clear by the events of January 6th.
The gun laws in the U.S. are lax at best, as demonstrated by the high occurrence of gun-related incidents. At the very least, stricter gun laws should be implemented, such as banning military-grade weapons from being sold to the public. Notably, AR-15 rifles were used in several of the shootings this year. Weapons of mass destruction have no place in society.
The right to protect oneself is a concern for those who misinterpret "more gun control" as "taking weapons away." Yes, the public should have a right to access tools that can protect themselves/disarm their potential attacker. Tighter gun control just means limiting access to weapons meant to destroy, not those that disarm. This can be done by only selling handguns, specific types of bullets, and performing thorough background and psychological checks before selling. This is how gun control can be better managed as a public health crisis. Additionally, lax gun regulations contribute to the national threat it presents.
The storming of the capitol that took place January 6th, 2021 by Ex-President Trump's supporters was truly eye-opening for the public. Realizing that the idea that one can take what they want with a "bible and a gun," is a threat to life as we know it. Because of the encouragement from Ex-President Trump, a militia took the capital by force with weapons of mass destruction with the intent to kill. Clearly, even the right to carry guns can be abused. Taking the first step in tightening gun control could be beneficial in addressing this abuse.
In Switzerland, they have an interesting policy regarding the right to carry a gun. Notably, they have a high rate of gun ownership, yet they do not have mass shootings. This is because Switzerland requires that bullets be kept separately from the gun – somewhere other than the owner's home. While perhaps not all of Switzerland's gun regulations may be received well, this one is especially interesting.
For example, perhaps U.S. owners could own both guns and bullets, and carry both, but it should be required that the bullets be kept in a separate case while in public areas. This would require more effort from the community and law enforcement (though that bridges into policing reformation to avoid police-related deaths, which I am in favor of, though it is not the focus of this blog). However, if civilians are prohibited from carrying loaded guns in public areas, it may be effective in preventing mass shootings.
The U.S. needs to reduce the number of threats caused by gun violence. We can do this by starting with tightening gun control.
THE LATEST THINKING
Webisode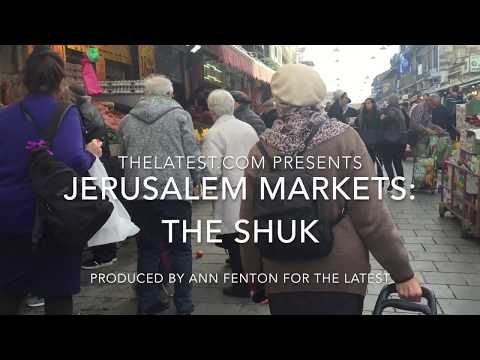 Jerusalem Markets: The Shuk