THE LATEST THINKING
The opinions of THE LATEST's guest contributors are their own.
From Rosh Hashana to Reparations
One of the most important parts of observing Rosh Hashana is repentance -- making things right with the people in our lives. But what is the proper way to repent? The rabbis provide an answer to that question, and in doing so, spell out the perfect argument for, well, reparations: 1. Acknowledge what you have done. 2. Feel a measure of regret. 3. Be determined not to do it again. 4. Repair the effects, if at all possible. 5. Ask for forgiveness.
I don't say that we should conduct our lives according to a set of laws developed in the Bronze Age when the idea of a periscope, Petri dish, or periodic table weren't even gleams in a scrivener's eye. However, we can retain ethical ideas regarding simple human decency and build on them. So, "acknowledge, regret, forswear, repair, and ask forgiveness." Good. When do we start?
Here's the irony. Clearly the most horrific event in Jewish history was the Holocaust; the most evil villain was the Nazi. And yet . . .
Recently, the mother of a dear friend of mine died. For months, she received around-the-clock care that was 100% paid for by the German government. This was part of German Holocaust Reparations. World War II ended in 1945. By 1953, this program had been proposed, negotiated, ratified, and put into effect. Eight years. It took a mere eight years. (According to the Claims Conference, a nonprofit organization that distributes funds from Germany to Holocaust survivors, the German government has paid out approximately $70 billion in reparations to Jewish Holocaust survivors since 1953.)
Slavery in the U.S. ended 155 years ago — I won't go into Jim Crow, mass incarceration, segregation, police brutality and the systematic erosion of voting rights. Let's just stick with 250 years of slavery. We still haven't delivered the 40 acres and a mule that Lincoln promised in Special Field Orders No. 15 and the Freedmen's Bureau bills. (These were reversed by Andrew Johnson who took office after Lincoln's assassination).
As journalist Susan Neiman wrote one year ago in The Atlantic, "Germany has no monuments that celebrate the Nazi armed forces, however many grandfathers fought or fell for them. Instead, it has a dizzying number and variety of monuments to the victims of its murderous racism." This is a "deliberate national penance that most Germans now take for granted," wrote Neiman, a Jew who lived in Berlin for decades.
Statues and monuments are, of course, merely symbolic. Having said that, I absolutely recognize the power of symbols. I simply mean that eliminating statues and monuments that commemorate the Confederacy does not put wealth into anyone's pocket; it does not come close to anything resembling a process of repentance. It is simply an important, albeit symbolic, gesture.
Nevertheless, the supposedly good citizens of the U.S.A. continually struggle with the issue of confederate statues and monuments. It's no wonder we can't "acknowledge, regret, forswear, repair and ask for forgiveness." That is how stupid and stubborn we are.
So right now, in my book, as we begin the Hebrew year 5781, Germany is way ahead of the United States when it comes to simple human decency.
THE LATEST THINKING
Webisode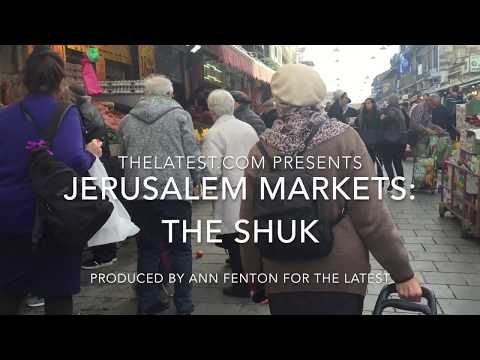 Jerusalem Markets: The Shuk