THE LATEST THINKING
The opinions of THE LATEST's guest contributors are their own.
Frankenstein Play is Bewitchingly Wonderful
This version of Frankenstein's monster is like nothing you've ever seen before.
The classic story of Frankenstein and his monster has had dozens of versions over the years. Now, as a gift to a quarantined world, the UK National Theater has recently posted their jaw-dropping version of the play for free on YouTube. The play is only available for free for a limited time.
Originally performed in 2011 and broadcasted to American theaters a few years later, bypassing it would be a gigantic crime to the power of art. Benedict Cumberbatch and Jonny Lee Miller trade powerful performances as both the Creature and Victor Frankenstein, depending on the version. Cumberbatch is bewitching and riveting as he portrays an initially childlike Creature who has to learn how to gain control of its own limbs. While this part is fascinating, it admittedly drags a bit, but such a minor nit-pick holds no weight compared to the play's overall majesty. While it might be confusing to someone not familiar with the story of Frankenstein, knowing and understanding the Creature as a human is paramount.
The play's first half sees the Creature go through an introduction to morality. He inadvertently saves a woman being threatened, and experiences and reciprocates kindness when educated by an old blind man. But then a betrayal comes when the old man's married son sees the Creature, banishing him from their property despite the father's protests. Angry and betrayed, the Creature enacts arsonistic revenge, becoming embroiled in a cycle of revenge and betrayal for the remainder of the captivating plot. While this didn't happen in the original story, it's a chilling inciting incident for this interpretation of the Creature, whose loneliness drives him to many acts revenge. Emotion bleeds out of him and viewers feel as aghast and hurt as he does with every vicious betrayal. He could have been good if society's judgmental treatment hadn't driven him down this path. That is the tragedy of this version of Frankenstein.
Even without witnessing the play live — although that would add an extra dimension — the staging is phenomenal in display and breathtaking in execution. A massive sweep of hanging light bulbs blossom across the ceiling, flickering and crackling like lightning in the opening moments. The stage is like none other: two circles within each other, the center can rise or descend, making scene transition — usually the immersion-breaker for most plays — seamless so that the story retains its iron grip on the audience.
While the first twenty minutes or so differs from the book, all other changes are the necessary ones that result from adapting a book to a stage play. As such, they are not significantly detrimental to the story or viewing experience — it's merely what happens when a story transitions mediums. The National Theatre's version of Frankenstein is free on YouTube during a time when everyone is stuck at home. Do yourself a favor and don't miss it.
THE LATEST THINKING
Webisode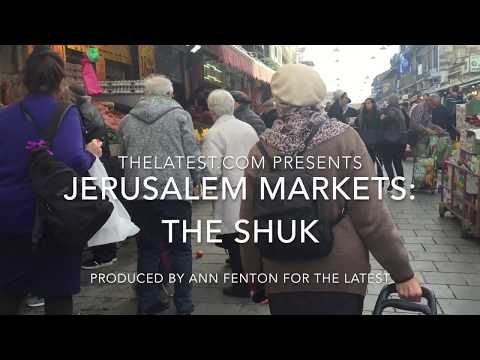 Jerusalem Markets: The Shuk