THE LATEST THINKING
The opinions of THE LATEST's guest contributors are their own.
A continuation of my previous article on the rise of Dutertardism in the Philippines, this piece peeks into Rodrigo Duterte's psychological profile through his leaked 1998 psychological report, corroborated by his publicly displayed behavior.
According to former UN high commissioner for human rights, Zeid Ra'ad Al Hussein, Duterte "needs to submit himself to some sort of psychiatric examination."
Indeed, Duterte has behaved strangely for a president of a democratic country, with his colorful antics and incendiary language. And that's been well-documented.
He's addicted to a divisive rhetoric with a penchant for violence, exhibiting the tendencies of a sociopath. In the run-up to the 2016 election, he challenged his opponents during a debate to kill, and said that should they refuse to do so, they're gay and spineless -- an apparent insult to the gays in the military and the police. He also confessed to having killed people while serving as mayor of Davao. And in one of his speeches, he said he'd be happy to slaughter three million drug addicts just as Hitler did to the six million Jews.
Last month, he admitted to the allegations that he ordered the extrajudicial killings that claimed thousands of lives. Among the casualties of his notorious war on drugs have been suspected drug addicts, drug dealers, innocent bystanders, students, and even children.
The misogynist in Duterte encouraged the rape of women caught in a crossfire by soldiers and ordered the troops to shoot female fighters in the genitalia. He joked about rape many times and always found the time to insult women who stand for justice and speak truth to power, jailing a lady senator, defrocking a lady chief justice, catcalling lady journalists, etc.
Dr. Natividad Dayan, former president of the International Council of Psychologists, conducted a psychological evaluation of Duterte in 1998. The result was not surprising. She found that Duterte suffered from "antisocial narcissistic personality disorder." The symptoms of this disorder include exhibiting "gross indifference, insensitivity, and self-centeredness."
The same report revealed that Duterte has a "grandiose sense of self-entitlement and manipulative behaviors." He also has a "pervasive tendency to demean, humiliate others and violate their rights and feelings."
In the course of his presidency, he has shown signs of the report's truthfulness.
Rina Jimenes-David has a pointed observation of Duterte. She said, "His response to most challenges has been anger and vindictiveness. His behavior toward his enemies... especially women who deviate from his stereotyped view of their proper behavior, has been harsh and rude."
She continued, "When legal and political maneuvers prove inconvenient, he resorts to attacking their reputations, their character, and their sexuality."
But despite all this, he remained popular among those who voted for him, even after the fact that lives have been lost and illegal drugs still sold in city streets and communities, the economy in shambles, unscrupulous politicos emboldened, and human rights undermined.
To his supporters, he is an icon that counters the cultural and economic divide between the establishment represented by the oligarch and the poor. In him, they seek an instant solution to social problems which involve navigating through the complexities of governance and bureaucracy.
(See my previous article on the rise of Dutertardism.)
THE LATEST THINKING
Webisode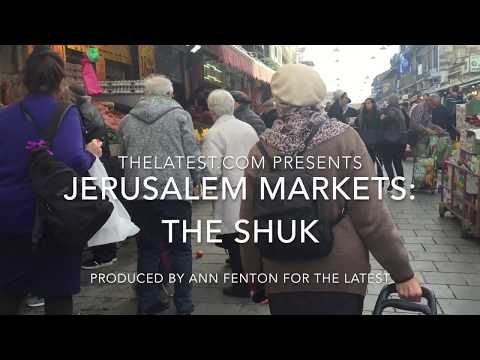 Jerusalem Markets: The Shuk