THE LATEST THINKING
The opinions of THE LATEST's guest contributors are their own.
This Year, I Learned About Gifts
I don't know how to choose gifts for others; this year I learned.
I knit an entire scarf in two days. That's right a 55-inch scarf in 2 days. I started it entirely on a whim. I've always been this way. I learned to cook because I was on a diet and couldn't stop watching videos about food. Now I can make a Roux! (I know that's not a difficult thing to do but it does sound fancy.)

The scarf, of course, started as a Holiday-infused obsession. After watching one Youtube video on how to do the correct stitch, I was on my way. I would knit almost continuously for the next 48 hours, my hand cramping from early-onset pains of early-onset arthritis. When I started the project, I had no clue where it might end up.
I had yet to figure out a Christmas gift for my fiance. The problem was, she had figured out a gift for me: a wine-tasting for two at an (as she called it) prestigious top-of-the-line V.I.P winery. She told me about my gift because I don't like surprises, and because I told her the wedding was off if she didn't.
After a little research, I found the exact gift she had purchased on a little site called Groupon. There's nothing like Groupon. How else would we wake up the morning after a Holiday binge and find ourselves scheduled for a 6-person rafting trip? There's simply no better way.

The price of her purchase: 60 dollars. This gave me a place to start; I needed to offer a gift that also cost exactly 60 dollars. I'm a terrible gift-giver. This is where the scarf comes in. I spent 30 hours creating the scarf. Knitting over and over. Going over and under. I see the stitches in my dreams. But the gift itself cost me 0 dollars.
The yarn was in a closet. It was purchased by my mother who, at one point, thought that knitting could be her new hobby. Years later, it now functioned as my key to a great Christmas.
Because the scarf itself only cost human capital, it wasn't worth anything. Therefore on top of the scarf, I purchased a 60 dollar gift card to her favorite store and put it on top of the scarf I thought was the secondary present.
She loved the scarf. It was the kind of reaction you don't get for every present. I had dropped stitches; it got wider; it got thinner; there were holes, and the colors didn't match. She loved the scarf. I think she might have lost the gift card.
Sometimes we get wrapped up in doing enough for others. A lot of times that translates to something of monetary value. Turns out the spirit of the holidays isn't dead. The effort is what people see when they open a gift, not how much it cost, a lesson I wish I'd known sooner. I probably could have saved 60 bucks.
THE LATEST THINKING
Webisode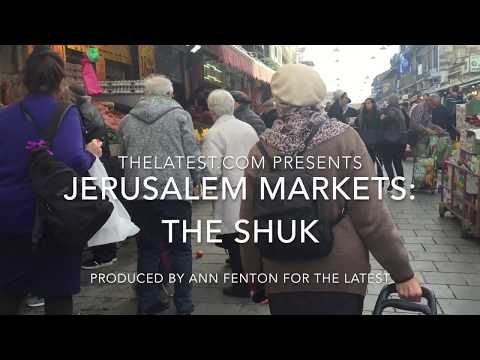 Jerusalem Markets: The Shuk